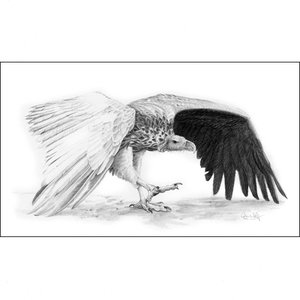 LOT 9
COLIN WOOLF
Original artwork
Lappet-faced Vulture. Pencil.

Colin is one of the UK's leading wildlife artists. He lives in Scotland and is drawn to the wilder & more remote places. Passionate about all forms of wildlife, he has a special admiration for birds of prey and believes that as an artist the ultimate is capturing their essence on paper or canvas.

"When I went to Africa, one of the birds top on my list was this one - the Lappet-faced Vulture - always been fascinated since childhood. I was horrified to learn that in 2015 it was placed on the RED list and is rapidly declining."
29 cm x 17 cm
Signed. Donated by Artist.
10210
Bidding Ended :
Sunday, 15 October 2017 19:16:00