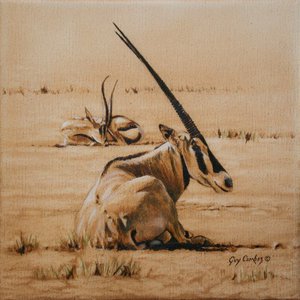 LOT 11
GUY COMBES
Original artwork
Oryz and Grants gazelle. Oil on canvas.

Guy Combes lives & works in California, & has carved a niche with his broad knowledge of the biodiversity of Kenya, where he was born & raised. Guy brings a rich & immersive lifetime of experience to his paintings, & has received numerous awards and representations from museums, galleries & societies in N. America & Europe.
22 cm x 22 cm
Signed. Donated by Artist.
10212
Bidding Ended :
Sunday, 15 October 2017 19:33:45