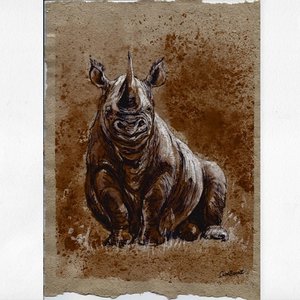 LOT 29
CAROL BARRETT
Original artwork
Chilled Black Rhino. Ink, Gouache and Coffee on elephant dung paper

After graduating from Edinburgh Art College Carol became the Artist in Residence at The Royal Zoological Society of Scotland and has continued to specialise in wildlife painting.

Carol has a particular interest in African wildlife and makes regular visits to study, draw and paint it in its natural setting.

She is a keen conservationist and wants to use her abilities as an artist to give something back to the wildlife and continues to support a number of conservation organisations.

Carol has been selected for exhibition in the DSWF Wildlife Artist of the Year in 2012 and 2014.
22 cm x 29 cm
Signed. Donated by Artist.
10230
Bidding Ended :
Sunday, 15 October 2017 19:56:00