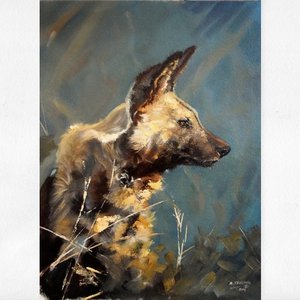 LOT 32
ROBERT TEELING
Original Artwork
African Wild Dog Profile

Oils on canvas board

Robert was born in South Africa and currently resides in Ireland. He is self-taught and his passion for wildlife art started at a young age. He is constantly looking for inspiration and reference material to ensure he captures the real and natural beauty of his subjects. He has been selected as a finalist in the DSWT Wildlife Artist of the Year awards in 2011, 2015 and 2017 and had two paintings as finalists in the BBC Wildlife Artist of the Year awards.
30 cm x 37 cm
Signed. Donated by Artist.
10351
Bidding Ended :
Sunday, 15 October 2017 20:02:00