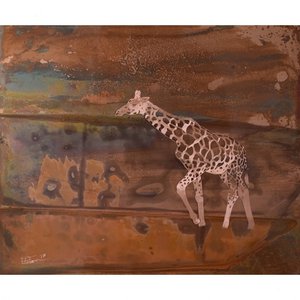 LOT 45
PAUL FEARN
Original Artwork
Nubian Nomad

Patina and engraving on a copper sheet.

Paul Fearn is a three-time finalist in the prestigious international 'David Shepherd Wildlife Artist of the Year' competition (2015/16/17) and is a contemporary wildlife artist with a difference. His canvases are sheets of metal which he carefully corrodes to produce figurative images of his subjects, and he describes some pieces, such as the three below, as more 'textural' than 'abstract'.
31 cm x 35 cm
Signed. Donated by Artist.
10364
Bidding Ended :
Sunday, 15 October 2017 20:28:00