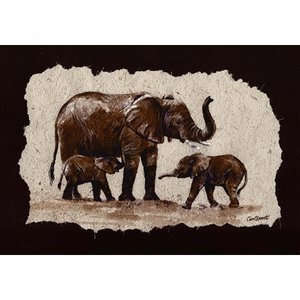 LOT 78
CAROL BARRETT
Original Artwork
Enough for Two

Coffee, Ink & Gouache on Elephant Dung Paper.

Carol has a particular interest in African wildlife and makes regular visits to study, draw and paint it in its natural setting. She is a keen conservationist and wants to use her abilities as an artist to give something back to the wildlife and continues to support a number of conservation organisations. Carol has been selected for exhibition in the DSWF Wildlife Artist of the Year in 2012 and 2014.
29 cm x 21 cm
Signed. Donated by Artist.
10397
Bidding Ended :
Sunday, 15 October 2017 21:34:00