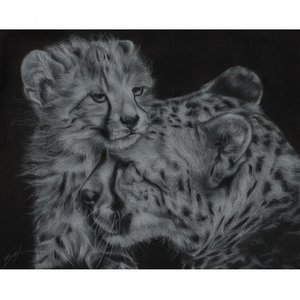 LOT 89
BROOKE WALKER
Original Artwork
Mother and Child

Charcoal and white chalk on grey paper

Working in both charcoal pencil and oil paint, Brooke's pieces are highly detailed in a hyper realistic style. She wants the viewer to relate to the animal, see the world through their eyes and resonate with the struggles these creatures are facing due to habitat loss, illegal poaching etc. Her works are quiet with a keen emphasis on the expressions, in particular the eyes. Brooke recently won the 'Hidden World' category prize at the David Shepherd Wildlife Artist of the Year Awards in London.
20 cm x 25 cm
Signed. Donated by Artist.
10412
Bidding Ended :
Sunday, 15 October 2017 21:56:00