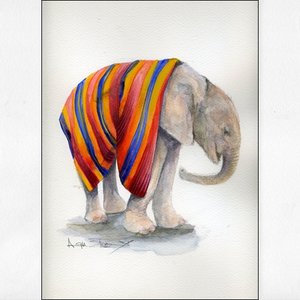 LOT 4
ANGELA SHELDRICK
Original Artwork
"Wrapped Warm"

Watercolour

All profits to the DSWT

The daughter of David and Daphne Sheldrick, Angela grew up in the wilds of Tsavo East in Kenya. Today, as CEO of The David Sheldrick Wildlife Trust, she continues the lifesaving conservation work begun by her parents more than 40 years ago. Angela lives on site with her family at the Sheldrick Elephant Orphanage in Nairobi, taking inspiration for her artwork from the orphan baby elephants lovingly cared for and hand-raised by the Trust so that they can return to the wild when grown.

Created in Kenya, Angela's original watercolours are in high demand, with an extensive waiting list for new pieces, and so we are delighted to be able to offer an opportunity to bid on this latest artwork, which was produced specifically for Sketch for Survival.
30 cm x 40 cm
Signed. Donated by Artist.
10429
Bidding Ended :
Sunday, 15 October 2017 19:07:59