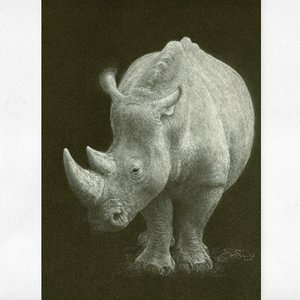 LOT 95
SUSAN SHIMELD
Original Artwork
"White Rhino"

Pastels

Susan has been a keen naturalist and conservationist for many years. She is passionate about wildlife and the natural world and her artwork very much reflects her love of nature. Whilst combining her love of wildlife and art, Su also supports wildlife conservation through voluntary work and through her artwork.

Su has exhibited her artwork at a number of galleries including the London Zoological Society, whilst working with the Orangutan Foundation, and the Society of Wildlife Artists, at the Mall Galleries in London. She has also illustrated two books on wolf conservation and has written for, and had her artwork published in a number of well-known magazines.
43 cm x 45 cm
Signed. Donated by Artist.
Item not sold:
Reserve was not met
10433
Bidding Ended :
Sunday, 15 October 2017 22:08:00