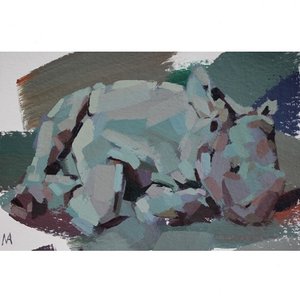 LOT 105
MARIE ANTONIOU
Original Artwork
Black Baby Rhino

Acrylic painted sketch

Marie has been a finalist or highly commended in the David Shepherd Wildlife Artist of the Year awards for the last five years. Her paintings are an impressionistic interpretation conveying traditional subject's in a more contemporary style. This is explored through expressive brushstrokes and bold colour giving a slight abstract feel to the work. She prefers to work in Acrylic as it suits my approach to painting.
30 cm x 20 cm
Signed. Donated by Artist.
10702
Bidding Ended :
Sunday, 15 October 2017 22:28:00