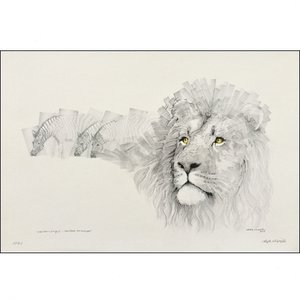 LOT 124
RALPH RESNIK
Limited Edition Print - Artists proof
Signed artists proof of "Coalition King 2", printed on 300 gsm Canson cold press acid-free paper. It is from a set of signed, numbered limited edition prints and numbered AP2.

Ralph grew up in South Africa in a family closely and passionately linked to nature conservation and preservation. Every six to eight weeks, with his family, they would head off for a quick trip to the Kruger National Park. His appreciation and understanding of nature came from these encounters. He paints in his own unique style, both on canvass or paper. His current artworks are "pencil paintings". These are not drawings or sketches, but rather pencil-paintings, whereby he have evolved a personally unique method of "painting" using erasers to either 'paint-in' or 'paint-out' … and the 'black-and-white' result is closer to how wildlife perceives the world in monochrome.
48 cm x 33 cm
Signed. Donated by Artist.
10747
Bidding Ended :
Sunday, 15 October 2017 23:06:00