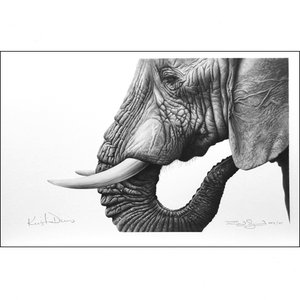 LOT 126
RICHARD SYMONDS
Limited Edition Print
Ele thoughts

Limited edition print - No. 2 of 95 - signed by the artist and the actress and supporter of the DSWT Kristin Davis

All profits to the DSWT

Entirely self-taught, Richard has been a professional wildlife artist for 27 years and raised tens of thousands of pounds for wildlife through the sale and auction of originals and limited edition prints. In 2006 Richard hit the headlines when he completed his first life-size oil painting of an African bull elephant called "Tembo". It sold for a staggering $100,000. This work is a side profile of an elephant from the Kruger National Park in South Africa deep in thought.
46 cm x 31 cm
Signed. Donated by Artist.
10962
Bidding Ended :
Sunday, 15 October 2017 23:10:00