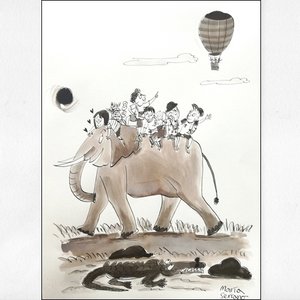 LOT 129
MARIA SERRANO
Original Artwork
Pen and ink. Watercolour wash

After studying Arts at the Complutense University of Madrid, Maria lived in Seville, Madrid, Valencia, France and England. Now back in Murcia, her birthplace, she works long hours to succeed in the job she loves: Illustration. She has worked with the Oxford University Press, Templar Books and Pearson Education. In March 2014 her first book was published by Narval. Many exhibitions and commissions have followed, as well as a second book in 2015. Her sketch is based on her childhood dream of visiting Africa with her friends accompanied by a wise elephant called Baobab.
21 cm x 29 cm
Signed. Donated by Artist.
10965
Bidding Ended :
Sunday, 15 October 2017 23:16:00