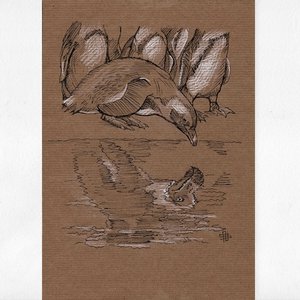 LOT 158
STEVE NAYAR
Original Artwork
African penguin sees itself reflected as a Dodo

Pen and ink with white pastel

Steve is a wildlife artist living and working in Totnes. His current work focuses on animals facing extinctionin the wild. He normally worked on one metre canvasses, close-cropped on the face. He is a dedicated supporter of conservation charities.
21 cm x 29 cm
Donated by Artist.
11080
Bidding Ended :
Monday, 16 October 2017 00:14:00