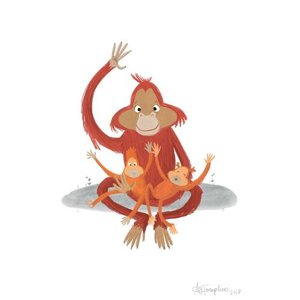 LOT 1
ABI TOMPKINS
Category: Primates
Love, Orangutan

Digital Art

29 cm x 21 cm

Mounted. Signed. Donated by artist.
Abi is a childrens book illustrator and has been drawing since she was a young child. She takes her inspiration from everything, whether that be music, film, encounters with people or just observing the world.
Whenever I see pictures or videos of orangutans, they always seem to have such a happy and sensitive nature and are found looking out for their family. I wanted to portray this through my image. Its hard to believe they are on the endangered species list.
Artist website: abitompkins.com
2045041
Bidding Ended :
Sunday, 25 November 2018 16:06:24