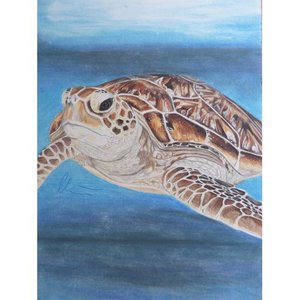 LOT 2
ABIGAIL WICKING
Category: Marine
No more nets please!

Coloured Pencil

29 cm x 21 cm

Mounted. Signed. Donated by artist.
Abigail is a self-taught artist specialising in wildlife art and portraits. She is passionate about conservation and tries to raise awareness and promote change through her work.
Green turtles are threatened by being caught in offshore shark nets, commercial fishing gear, hunting and loss of nesting beaches.
Artists website: abisportraits.co.uk
2045042
Bidding Ended :
Sunday, 25 November 2018 16:03:36

;