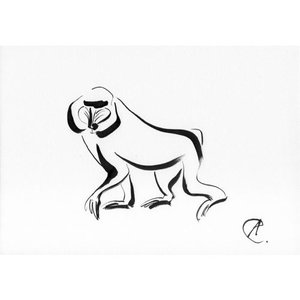 LOT 15
ALYANA CAZALET
Category: Primates
Walk

Ink on watercolour paper

29 cm x 21 cm

Mounted. Signed. Donated by Artist
Born in Russia Alyana has travelled widely and her nomadic lifestyle has left its mark on her rough, sketchy and expressive drawings. Now based in London she works as a freelance artist and illustrator.
African Mandrill in ink

Mandrills are the worlds largest monkeys and among the most vulnerable and endangered species.
Artists website: illustrationweb.com/artists/AlyanaCazalet/view
2045056
Bidding Ended :
Sunday, 25 November 2018 16:14:00

;