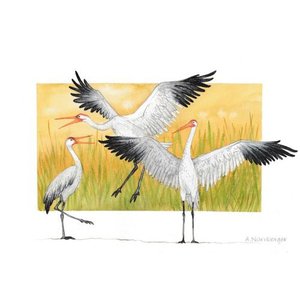 LOT 24
ANIKE NURNBERGER
Category: Birds
Dancing Whooping Cranes

Watercolour & pencil

29 cm x 21 cm

Mounted. Signed. Donated by Artist
Anike is based in Pretoria, South Africa. She has a deep love of nature which she expresses through her watercolours and coloured pencil drawings.
Study of three Whooping Cranes

I try to remind people of the beautiful species that we have on this planet and the importance of each one of them. I hope to inspire people to consider the consequences of their actions.
Artists website: instagram.com/anike.nurnberger.illustration
2045065
Bidding Ended :
Sunday, 25 November 2018 16:23:00