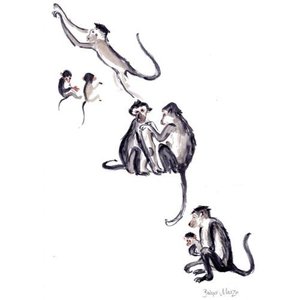 LOT 52
BRIDGET MARZO
Category: Unusual
White-naped Mangabeys

Watercolour

29 cm x 21 cm

Mounted. Signed. Donated by Artist
Bridget is an artist and author of internationally published childrens books. Based in London and France she loves sketching animals, people and their interactions and inspiring children and adults to do the same.
Studies of this West African primate

I sketched these critically endangered mangabeys from West Africa as they leapt, nursed and preened each other. August 1st is Mangabey Awareness Day.
Artists website: bridgetmarzo.com
2045093
Bidding Ended :
Sunday, 25 November 2018 16:51:00

;