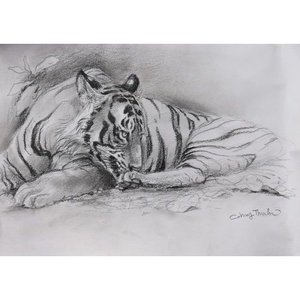 LOT 73
CHIRAG THUMBAR
Category: Cats
Ranthambore Tiger

Pencil

29 cm x 21 cm

Mounted. Signed. Donated by Artist
Chirag is a wildlife artist from India. He has produced artworks for many museums, wildlife sanctuaries and tiger reserves in India. He knows it is essential to see the animals in their natural habitat and only uses his own firld sketches and photos as the basis for his work.
Sketch of a resting tiger

During one of my visits to Ranthambhore National Park I spotted this male tiger. His predatory stare while sitting relaxed inspired me to capture this contrasting moment.
Artists website: gallery.artistsforconservation.org/artists/4035
2045114
Bidding Ended :
Sunday, 25 November 2018 17:12:00

;