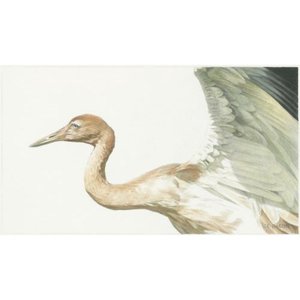 LOT 76
CHRIS BACON
Category: Birds
Fading In

Watercolour

29 cm x 16 cm

Mounted. Signed. Donated by Artist
Chris was born in the UK before moving to Canada. He has worked full time as an artists since 1980 and is a signature member of the Society of Animal Artists, receiving seven awards of excellence from them, as well as numerous other accolades. In 2012 he was presented with the Queen Elizabeth II Diamond Jubilee medal in recognition of his contribution to the Arts.
Young Whooping Crane

I see this highly endangered young bird as a symbol of hope for the future of the species, of which there are only a total of 757 birds remaining.
Artists website: chrisbacon.art
2045117
Bidding Ended :
Sunday, 25 November 2018 17:33:28

;