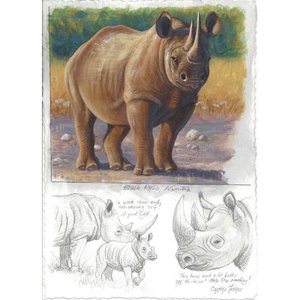 LOT 94
CYNTHIE FISHER
Category: Rhinos
Rhino Study

Pencil & watercolour

29 cm x 21 cm

Mounted. Signed. Donated by Artist
Cynthie has been a professional artist for over 30 years. She travels the world, including 18 trips to Africa, to study her subjects up close. Her art has raised many thousands of dollars for conservation.
Painting & pencil sketches of a rhino

I like to do studies of the animals I encounter on my trips. I combine a painting with pencil sketches and notes of my observations. As well as being an artist Im also a biologist and naturalist.
Artists website: cynthiefisher.com
2045135
Bidding Ended :
Sunday, 25 November 2018 17:33:00

;