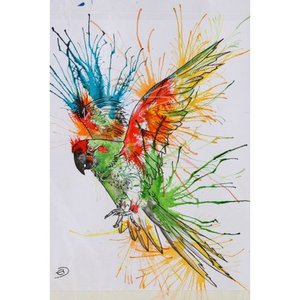 LOT 109
EMILY DONALD
Category: Birds
Red-Fronted Macaw

Pen & ink

42 cm x 30 cm

Mounted. Signed. Donated by Artist
Emily creates colourful work full of pattern and texture, inspired by places she has visited on her world travels. Her work can be found in galleries across the UK.
Multi-coloured drawing.

A pen and ink drawing of the endangered Red-fronted Macaw, with less than 1,000 left in the wild due to the destruction of their natural habitat in Bolivia for agriculture.
Artists website: emilydonald.com
2045150
Bidding Ended :
Sunday, 25 November 2018 18:16:59