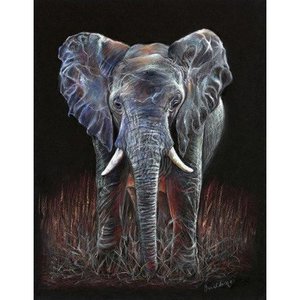 LOT 139
GERALDINE SIMMONS
Category: Elephants
Evening Sun

Limited Edition Print

51 cm x 40 cm

Mounted. Signed. Donated by Artist.
Geraldine is a signature member of the Artists for Conservation. Geri says: Animals have always been dear to my heart, and at any opportunity I will use my art as a means of raising awareness of wildlife conservation. I am so grateful that as a part of my journey I have had the opportunity to travel to a national park in the deep jungles of Borneo to witness orangutans in the wild. It's experiences like these that inspire me to show that the eyes of an animal are no different to ours; that they feel emotions, are a part of loving families and are sentient beings just as we are.
Portrait of an elephant
Artists website: geraldineswildlifeart.com