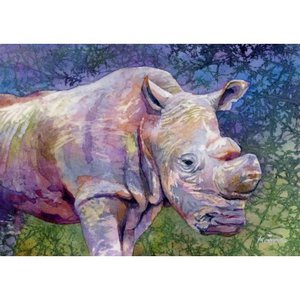 LOT 146
HAILEY HERRERA
Category: Rhinos
Sudan

Watercolour

29 cm x 21 cm

Mounted. Signed. Donated by Artist
Hailey is a watermedia artist, working in watercolour, watercolour batik, ink and acrylic. She has earnt signature memberships in the top organisations in Texas, USA. With abounding colour and a vibrant beauty, her art is found in many public and private collections.
The last male Northern white rhino.

A tribute to Sudan, the last male Northern White rhino, who died at Ol Pejeta reserve in Kenya on 19th March 2018.
Artists website: haileyherrera.com
2045187
Bidding Ended :
Sunday, 25 November 2018 18:25:00

;