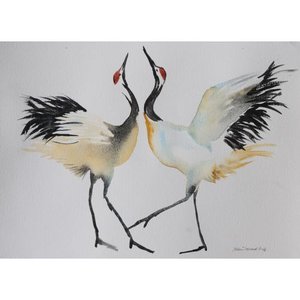 LOT 156
HELEN TREVISIOL DUFF
Category: Birds
Dancing Red-Crowned Cranes

Watercolour

42 cm x 30 cm

Mounted. Signed. Donated by Artist
Heather is a professional artist specialising in watercolour, acrylic and multi-media. She trained in Bristol and now exhibits in several galleries and has work in private collections worldwide.
A pair of Red Crowned Cranes

The Red Crowned Crane is known as a symbol of luck and longevity. Everyday they dance together in a ritual that symbolises their fidelity.
Artists website: helentrevisiolduff.co.uk
2045197
Bidding Ended :
Sunday, 25 November 2018 19:00:45

;