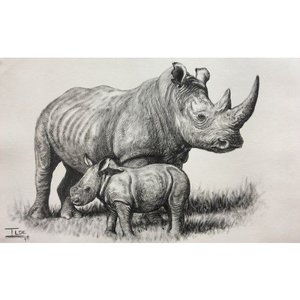 LOT 159
ILSE DE VILLIERS
Category: Rhinos
White Gold

Acrylic on Canvas

40 cm x 26 cm

Mounted. Signed. Donated by Artist
Ilse is a full-time South African artist specialising in wildlife. She has a very realistic style and a passion for all animals and wildlife.
White rhino mother & calf.

This year I was invited to photo white rhinos on a private conservancy. There was one calf among the adults and it was a treat to see it trotting around under her mothers watchful gaze.
Artists website: ilsewildlife.com
2045200
Bidding Ended :
Sunday, 25 November 2018 18:56:18

;