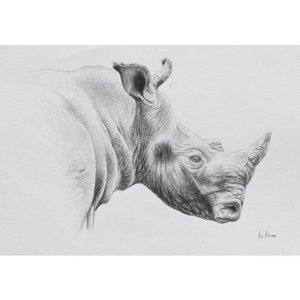 LOT 160
ILSE KLEYN
Category: Rhinos
Warrior

Pencil

29 cm x 21 cm

Mounted. Signed. Donated by Artist
Ilse is a former police captain who now paints full time. Her work is sold worldwide and through her own gallery in Stellenbosch, South Africa.
Portrait of a rhino.

Last year over 1,000 rhinos were poached in South Africa. I visited a conservation that has had their rhinos poached and heard first-hand the terrible account of their deaths. This picture is in honour of Lady and Higgins.
Artists website: artofkleyn.com
2045201
Bidding Ended :
Sunday, 25 November 2018 18:39:00

;