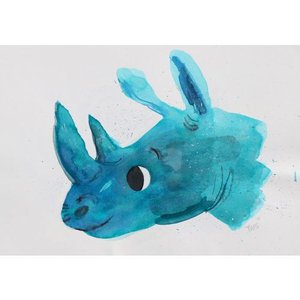 LOT 166
JANE MCGUINNESS
Category: Rhinos
Rhino

Mixed Media

29 cm x 21 cm

Mounted. Signed. Donated by Artist
Jane is the author and illustrator of childrens books. Her work often focuses on wildlife and nature. Her first book - Say Hi to Hedgehog - was published in 2018.
Illustration of rhino head in blue.

Rhinos are such compelling animals - bulky, gentle, almost prehistoric looking. I drew this one with inks, pens and other multimedia.
Artists website: janemcguinness.co.uk
2045207
Bidding Ended :
Sunday, 25 November 2018 18:45:00