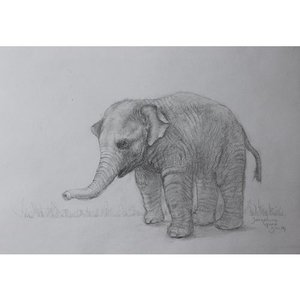 LOT 200
JOSEPHINE ANNE SMITH
Category: Elephants
Baby elephant

Pencil

29 cm x 21 cm

Mounted. Signed. Donated by Artist
Josephine studied at Ealing Art College, London. She is published by leading publishing houses in the UK and Australia and her paintings are represented throughout the UK, USA and Australia.
Sketch of a baby elephant.

I was motivated to paint this baby elephant on hearing that they are taken from their mothers to be trained for circus work or forms of harsh labour. It must stop.
Artists website: natureartists.com/artists/artist_biography.asp?ArtistID=108
2045241
Bidding Ended :
Sunday, 25 November 2018 19:19:00