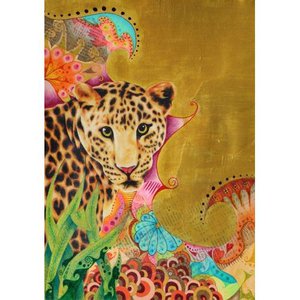 LOT 228
KATIEMO
Category: Cats
Arcadia

Mixed Media

29 cm x 21 cm

Mounted. Signed. Donated by Artist
Katiemo is an artist/illustrator based in Cornwall. Her work has been described as 'an interesting, organic and colourful explosion of flowing formations entwined with the pulchritude of nature'.
Amur leopard in a colourful Paradise.
Katiemo says: Arcadia depicts the beautiful Amur Leopard within a colourful paradise. The piece explores the complexity of nature, celebrating life through rich colours and swirling shapes.
Artist website: wix.com/katiemogallery/london
2045269
Bidding Ended :
Sunday, 25 November 2018 19:47:00

;