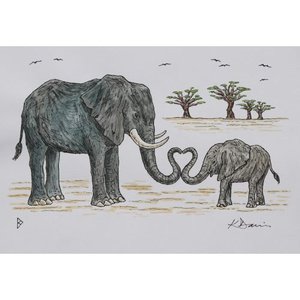 LOT 232
KERRY DAVIES
Category: Elephants
A loving touch

Pen & watercolour

29 cm x 21 cm

Mounted. Signed. Donated by Artist
Kerry is a freelance illustrator able to work on a wide variety of projects including greeting cards, cartoons, illustrations and murals.
Mother & baby elephant joining trunks.
Kerry says: I wanted to create an image that shows that elephants are loving and sensitive. I also wanted to show the strong family bond.
Artist website: facebook.com/kdartuk
2045273
Bidding Ended :
Sunday, 25 November 2018 19:51:00

;