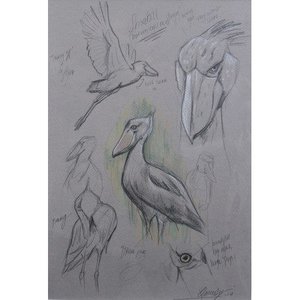 LOT 238
KRYSTEN NEWBY 2
Category: Birds
Shoebill

Coloured pencil

29 cm x 21 cm

Mounted. Signed. Donated by Artist
Krysten is a freelance artist, illustrator, graphic designer and ethical taxidermist based out of Bury St Edmunds, Suffolk, who has a life-long passion for wildlife and the natural world.
Field sketch of a Shoebill.
Krysten says: One of my most favourite birds, so pre-historic looking! I really hope to see them in the wild some day, whilst I still have the chance.
Artist website: krysthecreator.com
2045279
Bidding Ended :
Sunday, 25 November 2018 19:57:00