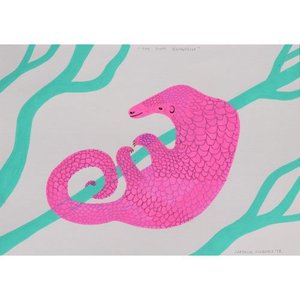 LOT 291
NATALIE HUGHES
Category: Unusual
The Pink Pangolin

Pen & watercolour

29 cm x 21 cm

Mounted. Signed. Donated by Artist
Natalie is a children's illustrator and nature lover. She has worked with a number of international clients and is inspired by David Attenborough, wild swimming and 80s movies.
Pangolin in a blue tree.
Natalie says: The pangolin is a strange and beautiful creature, and exactly the type I love to draw. I wanted to capture its unique character and highlight its rarity by using bright colours.
Artist website: nataliehughes.co.uk
2045332
Bidding Ended :
Sunday, 25 November 2018 20:50:00

;