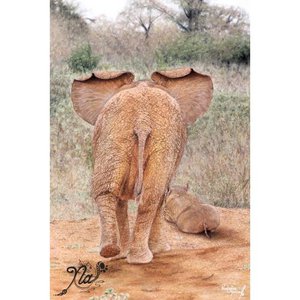 LOT 292
NATALIE MASCALL
Category: Elephants
Charging Tembo

Pastel

30 cm x 46 cm

Framed. Signed. Donated by Artist
Natalie is a self-taught award-winning artist with a passion for conserving wildlife. 2001 is when her journey as a professional artist began.
Elephant running into bush.
Natalie says: I couldn't wait to draw this elephant. I drew from a photo taken on my first safari in 2007 and from a visit to The David Sheldrick Wildlife Trust.
Artist website: nataliesart.co.uk
2045333
Bidding Ended :
Sunday, 25 November 2018 21:00:29

;