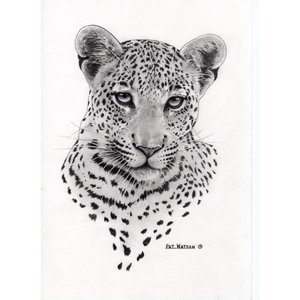 LOT 312
PAT WATSON
Category: Cats
Disappearing spots

Pencil

29 cm x 21 cm

Mounted. Signed. Donated by Artist
English born artist, author, naturalist and conservation Pat Watson has spent a lifetime studying, recording, exhibiting and writing about wildlife. His detailed art can be found in collections worldwide.
Portrait of an Amur leopard.

Throughout their range leopards are disappearing with sub species such as Amur Leopard so rare that they are classified by the IUCN Red List as critically endangered.
Artist website: artistsforconservation.org/pat-watson
2045353
Bidding Ended :
Sunday, 25 November 2018 21:20:30

;