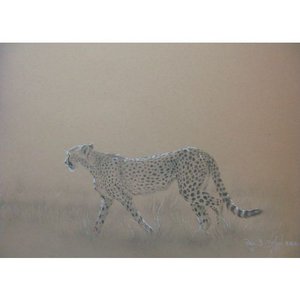 LOT 317
PAUL DIXON
Category: Cats
On the Prowl

Pencil & white gel pen

42 cm x 30 cm

Mounted. Signed. Donated by Artist
Paul is a signature member of the Society of Animal Artists and works from his studio in Cape Town, South Africa. He has been the recipient of many awards and continues to contribute to conservation by donating his artworks to worthy causes.
Cheetah walking through the savannah.

This artwork is on Desert Storm recycled paper.
Artist website: paulbdixon.com
2045358
Bidding Ended :
Sunday, 25 November 2018 21:23:00

;