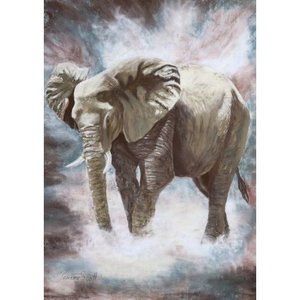 LOT 320
PAULINE SCOTT
Category: Elephants
In Peril

Pastels

42 cm x 30 cm

Framed. Signed. Donated by Artist
Pauline's main work is creating pastel portraits of pets from photographs. After living in Africa she has developed a portfolio of African wildlife.
Elephant against a stormy sky.
Pauline says: I did this portrait from a photograph taken in Botswana.I wanted to create an atmosphere to show these beautiful creatures are under threat.
Artist website: pastelanimalartist.co.uk
2045361
Bidding Ended :
Sunday, 25 November 2018 21:24:22

;