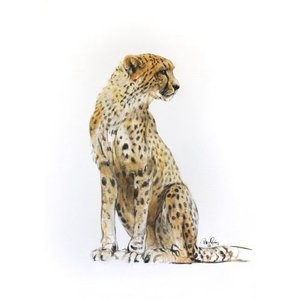 LOT 321
PETER GRAY
Category: Cats
Outlook

Pencil & Oil

82 cm x 64 cm

Stetched canvas. Signed. Donated by Artist
After graduating Cape Town University Peter further studied gemology, jewellery design, seal engraving and foundry.His accoladed artworks feature in collections worldwide.
A cheetah sitting looking for prey.
Peter says: Cheetah have a special elegance about them, in striking facial marking, gait and physique. Here I have painted a typical stance for this streamlined cat - seated and surveying its territory.
Artist website: petergray.co.za
2045362
Bidding Ended :
Sunday, 25 November 2018 21:20:26