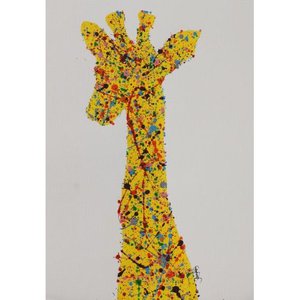 LOT 329
PUNAM SANGHRAJKA 2
Category: Unusual
Colourful Giraffe

Watercolour

29 cm x 21 cm

Mounted. Signed. Donated by Artist
Punam was born and raised in Kenya and is influenced by her roots. Her aim is to give you a little of the magic that Africa gave her through simple, bold, colour and texture.
Multicoloured silhouette of giraffe.
Punam says: This artwork uses a modern pop art technique to create silhouettes that can be recognised instantly. It's a juxtaposition of bright and happy to highlight darkness and loss.
Artist website: artbypunam.com
2045370
Bidding Ended :
Sunday, 25 November 2018 21:28:00