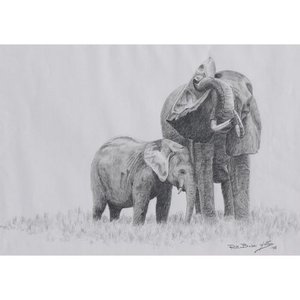 LOT 351
RUTH BAKER-WALTON
Category: Elephants
Seeking re-assurance

Pencil

31 cm x 23 cm

Mounted. Signed. Donated by Artist
Ruth is a professional wildlife artsit, a Fellow and former president of the Wildlife Art Society International. Inspired by annual trips to Africa she paints in watercolour, pastel and pencil.
Baby elephant with her mother.
Ruth says: This elephant pencil drawing was used to accompany an article I wrote for the Kenya Airways inflight magazine following an unforgettable experience in Amboseli National Park after the El Nino rains in 1998.
Artist website: ruthbakerwalton.com
2045392
Bidding Ended :
Sunday, 25 November 2018 21:57:02

;