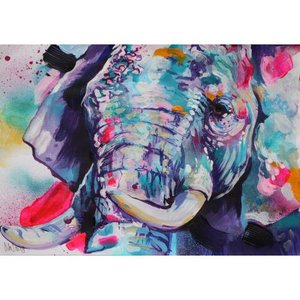 LOT 374
SIAN STOREY
Category: Elephants
Luminous Beast

Oil & spray paint

29 cm x 21 cm

Mounted. Signed. Donated by Artist
The beauty of nature is a common theme in Sian's work. Her signature style is is vibrant colour schemes wit splasheds of spray paint dripping over her delicate brushwork.
An iridescent elephant.
Sian says: Luminous Beast celebrates the majestic beauty of the elephant through colour and texture. The iridescent and luminous hues highlight the contrast of power and fragility of the elephant.
Artist website: sianstoreyart.com
2045415
Bidding Ended :
Sunday, 25 November 2018 22:34:36

;