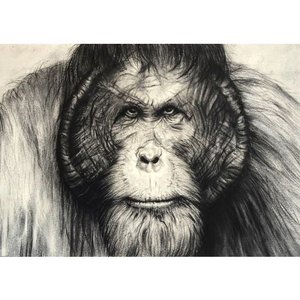 LOT 397
VIOLET ASTOR
Category: Primates
Don't palm me off

Charcoal

29 cm x 21 cm

Framed. Signed. Donated by Artist
Violet uses charcoal and natural materials. Her special interest is in travelling the globe and collaborating with conservation partners and projects to raise awareness through her art.
Large male Orangutan.
Violet says: Having seen the destruction of the rainforest first-hand during my visit to Kalimantan in April, this encounter with a large male orangutan spoke to me. With ever diminishing space to roam wild due to palm oil plantations the message behind his expression seemed clear to me.
Artist website: violetastor.com
2045438
Bidding Ended :
Sunday, 25 November 2018 22:38:39

;