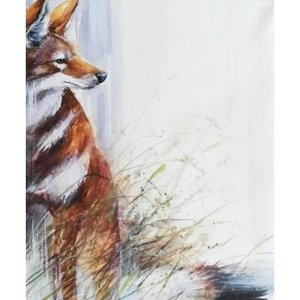 LOT 428
ELENA FAENKOVA 4
Category: Canines
Help - L

Watercolour

49 cm x 59 cm

Mounted. Signed. Donated by Artist
Elena is an artist based in Belarus. She works primarily in watercolour and vector art.
Ethiopian jackal - L

This picture is the of Elenas series entitled HELP. The H, E and P are now Lots 106, 427 and 429. They have been split up from one lot as together they required a lot of wall space!
2045748
Bidding Ended :
Sunday, 25 November 2018 23:07:00

;