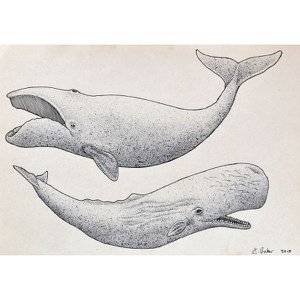 LOT 1
ALAN BAKER
Category: Marine
Whales

Pen and watercolour

14 cm x 21 cm

Unframed/unmounted. Signed. Donated by Artist.
One of the UK's leading children's book illustrators, Alan has written and illustrated over 40 books and won numerous awards for his work. His clients include The Guardian, The BBC, Oxford University Press, WWF, Penguin Randon House and the Sunday Times.
Graphic depiction of two whales
This artwork has been framed for our UK tour. The successful bidder will be given the option to buy the piece framed for an additional £15 (A4)to the hammer price.
2084670
Bidding Ended :
Sunday, 17 November 2019 18:01:00