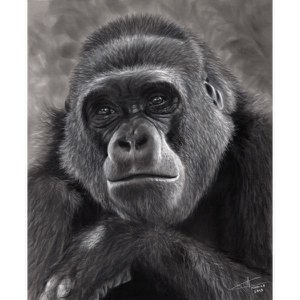 LOT 2
ALEXANDRE MIUCCIO
Category: Primates
The Gaze

Charcoal pencil/soft pencil

29 cm 21 cm

Unframed/unmounted. Signed. Donated by Artist.
Alexandre is a French artist who loves animals and nature. He has been professional fo over 20 years and works in oils, acrylics, watercoloursand pastel. He also teaches technique to other aspiring artists.
My objective is not a photographic reproduction but enough detail to catch a glance, an atmosphere, an emotion in the gaze.
This artwork has been framed for our UK tour. The successful bidder will be given the option to buy the piece framed for an additional £15 to the hammer price.
2084671
Bidding Ended :
Sunday, 17 November 2019 18:05:49