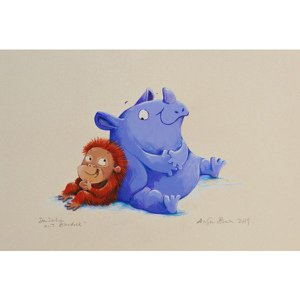 LOT 3
ALISON BROWN
Category: Rhinos
Dandelion and Burdock

Medium

21 cm x 29 cm

Unframed/unmounted. Signed. Donated by Artist.
Alison is a full-time illustrator and writer and has worked with Bloomsbury, Little Tiger Press, Oxford University Press and Hinkler. In the USA her book - I love you night and day - was a Wall Street Journal best seller. She is represented by the Plum Pudding Agency.
This artwork has been framed for our UK tour. The successful bidder will be given the option to buy the piece framed for an additional £15 to the hammer price.
2084672
Bidding Ended :
Sunday, 17 November 2019 18:05:00