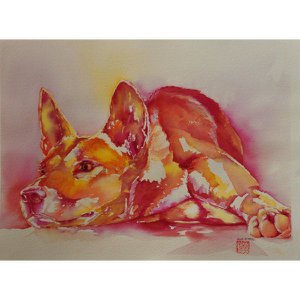 LOT 7
ALIX O'NEIL
Category: Canines
Red Dust Dingo

Watercolour

42 cm x 29 cm

Unframed. Signed. Donated by Artist.
Alix O'Neil paints in watercolour using bold, clear colour. She sells her painting through Australian exhibitions and internationally online. The predominent red indicates the harshness of the desert and the their blood spilt. To the indigenous Australians, dingoes are mythical creatures woven into their dreamtime because of their natural serenity.
Many Australian animals are already extinct - the Dingo clings on and despite being theatened with extinction they continue to be hunted.
This artwork has been framed for our UK tour. The successful bidder will be given the option to buy the piece framed for an additional £15 (A4) or £20 (A3) to the hammer price
2084812
Bidding Ended :
Sunday, 17 November 2019 18:13:00