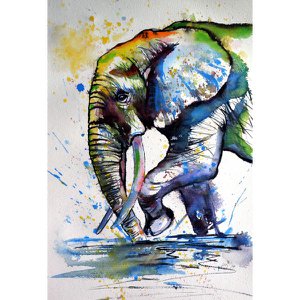 LOT 13
ANNA BRIGITTA KOVACS
Category: Elephants
Elephant

Watercolour

50 cm x 35 cm

Unframed/unmounted. Signed. Donated by Artist.
Anna is a professional artist based in Hungary who specialises in watercolour and oil. She loves the fluidity of this medium. She considers interpreting the beauty of the natural and the man-made world her artistic mission in life because of the joy it can bring people.
I love landscapes, still life, nature and wildlife, lights and shadows, colorful sight. These things inspire me and appear in many of my artworks.
This artwork has been framed for our UK tour. The successful bidder will be given the option to buy the piece framed for an additional £15 (A4) or £20 (A3) to the hammer price
2084818
Bidding Ended :
Sunday, 17 November 2019 18:29:26