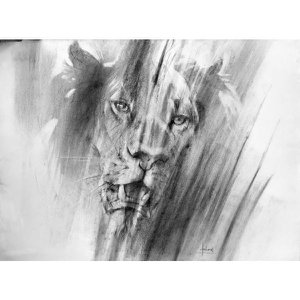 LOT 15
ANNE LONDON
Category: Cats
Duma Tau - The Roar of the Lion

Charcoal and Graphite on Arches Paper

76 cm x 55 cm

Sent rolled. Signed. Donated by Artist.
Anne London has been an award-winning endangered species artist in the USA for 41 tears. She founded the non-profit Arts for Animals and operates a wildlife centre in Zimbabwe to connect creativity with Conservation for Children.
Anne says: Nothing teaches you to draw faster than a wild lion less than four paces away. Getting harder to find my favourite models in the bush - they need our help!
2084820
Bidding Ended :
Sunday, 17 November 2019 18:29:00

;